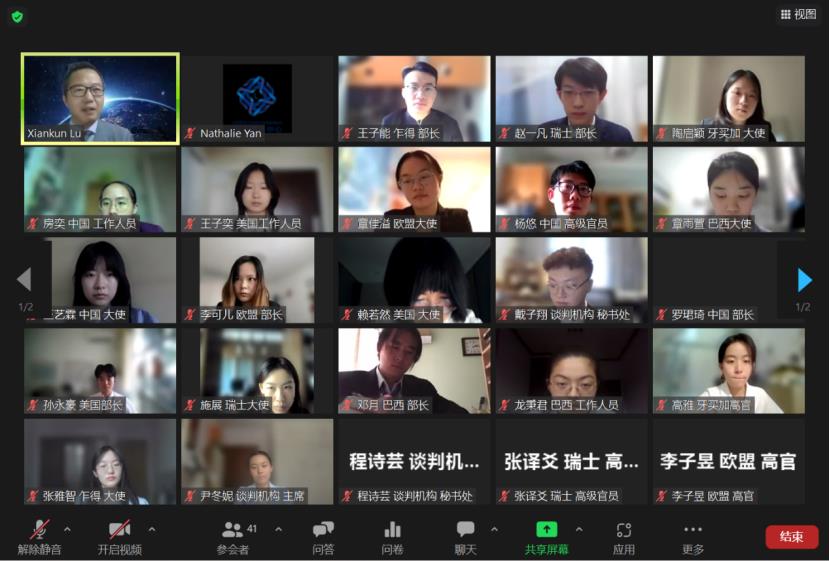 From July 11th – 26th, LEDECO Centre Swiss (LEDECO), in collaboration with the Central University of Finance and Economics (CUFE) of China, have organized the 2022 Summer Programme of International Organizations (SPIO) online.
LEDECO invited senior officers and experts from a number of international organizations to provide high-level lectures on current opportunities and challenges of international governance for CUFE students. These organizations include the World Trade Organization (WTO), Asian Investment Bank (AIIB), United Nations Industrial Development Organization (UNIDO), United Nations Economic and Social Council for Asia and the Pacific (UNESCAP), International Trade Center (ITC), Food and Agriculture Organization (FAO), World Intellectual Property Organization (WIPO), World Bank (WB), and International Monetary Fund (IMF). More than 600 undergraduate, master, and doctoral students participated in the online lectures.
28 students selected from the participants also participated in WTO General Council simulation, exchanging views on regular items and engaging in text-based negotiations under Special Sessions. They also learned how to draft statements, make proposals, negotiating texts for ministerial declaration, as well as to collect information and make meaningful analysis.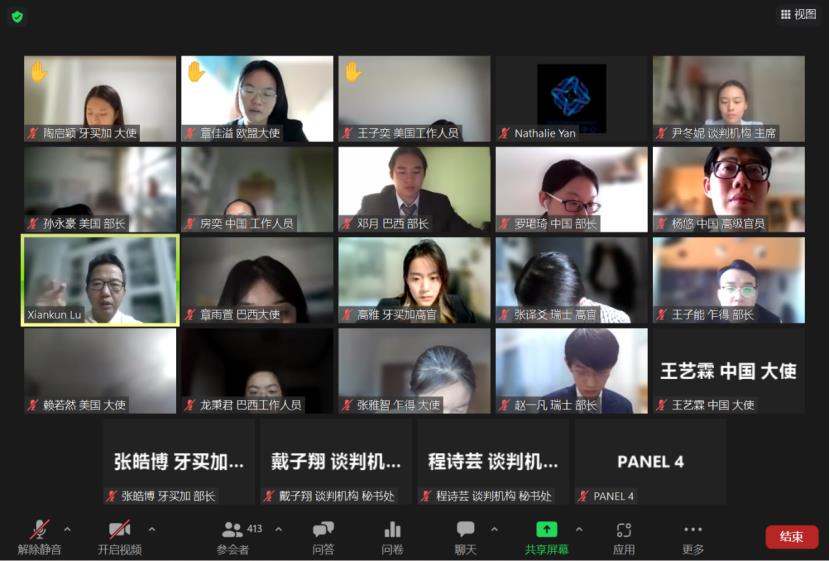 "Model WTO negotiations" centered around the WTO reform, non-market economy policies and practices, WTO dispute settlement mechanism crisis, status of developing countries and the special and differential treatment (S&D). Professor Lu Xiankun, Managing Director of LEDECO provided guidance to participants all through the entire simulation.
Annex: Schedule of Summer Programme 2022
 

Date

Time (Beijing)

Lecturer

Topic

I. Practice of International Governance (Finance section)

1

July 11

Monday

15:30-17:00

Ferran Pérez,External Affairs Officer of World Bank Group

Introduction to the World Bank Group – working on development in a time of upheaval

2

18:30-20:00

Brad McDonald, Deputy Chief for Trade Policy in the IMF External Policies Division

International Monetary Fund, Global Crisis and Protectionism and Global Economic Situation Forecast

3

July 12

Tuesday

15:30-17:00

Yuanjiang Sun, Chief Client Officer, AIIB

AIIB, International Infrastructure Investment and the Role of China

4

18:30-20:00

Cyn-young Park, Director for Regional Cooperation and Integration, Economic Research and Regional Cooperation Department, ADB

COVID-19 response and economic recovery in Asia: the role of ADB and regional cooperation

II. Practice of International Governance (SDG section)

5

July 13

Wednesday

15:30-17:00

Ying Wang, Senior Project Officer,Sustainable Food Consumption and Supply Chain of WWF China

WWF, Sustainable Food Consumption and Green Supply Chains and China's Role

6

18:30-20:00

Helen Burdett,Head, Circular Economy, World Economic Forum

Sha Song, Specialist, China Partnerships, Global Centre for Public Goods, World Economic Forum Beijing

WEF, Circular Economy and China's Role

7

July 14

Thursday

15:30-17:00

Mia Mikic, Former Director, Trade, Investment and Innovation Division in UN ESCAP

Global Economic and Trade Governance, Gender Equality, Women's Empowerment and the Role of UN ESCAP

8

18:30-20:00

Judith Fessehaie,Senior Programme Officer, Women & Trade Programme (SheTrades Initiative), ITC

ITC, SheTrades Initiative, and the Role of China

III. Practice of International Governance (Economic and Trade section)

9

July 15

Friday

15:30-17:00

Shenhong Yao, Director, South-South and Third Party Division, UNIDO

UNIDO, South-South cooperation, STI and the role of China

10

18:30-20:00

Xiaolei Zhao,Head of ITPO Shanghai,  UNIDO

UNIDO's Role in Investment Promotion, Technology Innovation and Global Cooperation

July 16 (Saturday), July 17 (Sunday) Breakoff

11

July 18

Monday

14:30-16:00

Ahmed Mukhtar, Senior Economist, FAO

Food and Agriculture Global Governance: Role of FAO

12

18:30-20:00

Natalia Deblue,WIPO Information Officer

WIPO, IP Protection and the Role of China

13

July 19

Tuesday

15:30-17:00

Alexandre Marchand,

Amanda Miashiro, Accessions Division, WTO

WTO, Trade and Peace and the Role of China

14

18:30-20:00

Giovanni Di Cola, Special Advisor to the Deputy Director General for Field Operations and Partnerships, ILO

International Labor Organization, Decent Work and the Role of China

IV. WTO Practice and Simulation

1

July 20

Wednesday

15:30-17:00

Victor Do Prado, former Director of Council and Trade Negotiations Committee at the WTO

WTO Negotiation Mechanism, Decision-making Procedure and the Role of the General Council

2

19:30-21:00

Alejandro JARA,  Former Deputy Director-General of WTO

General Introduction of WTO Reform and China's Role

3

July 21

Thursday

15:30-17:00

Patrick Low, Former Chief Economist at the World Trade Organization

Rethinking S&D: Ensuring the Balance of Rights and Obligations of WTO Members at Different Stages of Development

4

19:30-21:00

Wayne Mcook,Jamaica's Permanent Representative to the WTO

Non-market Economic Problems in WTO Reform and China

5

July 22

Friday

15:30-17:00

Shishir Priyadar, the Director of the Development Division, WTO,

The Development Aspects of WTO Reform and the Specific Concerns of Least Developed Countries

6

18:30-20:00

Professor Xiankun Lu, former Permanent Counsellor of China to the WTO, Founder and Managing Director of LEDECO

International Trade Negotiation Skills

7

July 23

Saturday

14:00-17:00

18:30-21:30

Professor Xiankun Lu, former Permanent Counsellor of China to the WTO, Founder and Managing Director of LEDECO

WTO General Council simulation preparation (grouping, drafting, etc.)

8

–

10

July 24

Sunday

July 25

Monday

July 26

Tuesday

14:00-17:00

18:30-21:30

Professor Xiankun Lu, former Permanent Counsellor of China to the WTO, Founder and Managing Director of LEDECO

WTO General Council Simulation